About John
Throughout this web site there are references to "We" at John Osthoff Guitars. Although this implies that there are many of us working here, in fact the whole show is primarily run by the luthier, John Osthoff. John does all the building and follows each guitar from start to finish. While it is mostly a one-person operation, many have helped, either directly or indirectly, in putting together each guitar.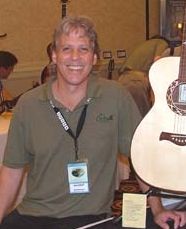 John has been involved in the "music industry" for close to 30 years. Starting in high-school bands and continuing in a variety of "working" bands, John has shared the stage with some very talented musicians. In addition he has provided stage and sound support for some well know touring acts including, The Coasters, The Drifters, The Platters, The Marshall Tucker Band, Jon Pousette-Dart, Jonathan Edwards, John Hall, Jess Klein, Bill Morrissey, and Bill Staines.
John started to dream about building guitars as a teenager but wouldn't have the resources to start lutherie until much later in life. He says, "I actually had the parts on order for a bass guitar in 1980, but the store I placed the order with went out of business. My road to guitar building isn't a complicated one, but it did take many turns before I actually installed my first fret into a fingerboard."
As a young man, John spent about 5 years working as a toolmaker. He says, "That part of my life gave me experience in tools, jigs and fixtures, that transferred to lutherie quite well." After toolmaking, John spent a good number of years as an electronics technician and a brief stint as a software engineer prior to becoming a school teacher. "Teaching is a lot more difficult than I thought it would be, but the schedule allows me to become more involved in lutherie. During school breaks, I am able to visit and study with some really great people."
While John has had the opportunity to rub elbows with many many Luthiers, John still conciders Steve Sauvé to be his mentor. Steve has provided me with endless advice and inspiration. He is the proprietor of Steve Sauvé Guitars formally Stringfellow Guitars located in North Adams MA. Lots of great stuff has come out of the shop including the two guitars built for the book Guitarmaking Tradition and Technology by William Cumpiano and John Natleston. "I am sure Steve deserves a lot more credit for what went into that book. John's approach to building has evolved through the years, and the book is more geared toward building a guitar without having to have a bunch of special tools. Still the book has been indispensable in my shop."
"Although not a Luthier, I have probably learned as much about guitarmaking from, Kevin Ansberry a Graphic Artist, as I have from anyone else. Kevin is not only a great friend, but a super designer and artist. He designed the Osthoff logo(s,) and worked extensively with me on the design of the JS model and the bridges on all of our guitars. While we haven't worked together very much recently, his inspiration form the past continues to influence my new designs and help to refine old ideas."
"Years ago I got much other inspiration and motivation form the folks on the forum of the13thFret I made many of my friends there. Lately that site has become quiet and most people have moved on. Still it remains close to my heart. John continues to be a Sponsor on some forums even though he has not been a very active participant."
John says he is very lucky to have the love and support of his daughters behind him all aspects of his life especially his luthier career. "They know it is not as lucrative as some of the other things I could be doing, yet they are so supportive, understanding and really quite helpful. Although not really involved in the day to day operations his girls will help out in the shop on occasions.
John has been a member of the Guild of American Luthiers and the Association of Stringed Instrument Artisans since 2001. In addition to the World Guitar Congress in '04, John has participated the Newport Guitar show ('04 & '06), the Healdsburg Guitar Festival ('05, '07, '09, '11 & '13), The Woodstock Ivitational Guitar Show ('09 thru '16) and also the Montreal Guitar Show in '07, '08, '09, '10 & '11.
Some Ramblings from John
The independent small-shop luthier scene seems to have exploded with new builders entering the market in the past few years. It could be due to the fact that the internet has allowed so much information (or misinformation) to be so easily obtained. Regardless, there are many builders out there that are making some fine looking guitars. It seems like anyone who has 2 or 3 guitars under their belt hangs out their shingle(usually in the form of a website) with a couple of common key phases. Finest materials available, highest quality, craftsmanship, innovation, blah blah. So how is one to stand out in the crowd?

Paraphrasing my buddy Al, If it looks like a guitar and is built like a guitar, it will probably sound like a guitar. I feel that I quickly got my guitars to a point of sounding fairly decent. I did not stray too far from traditional designs, so it was fairly easy to make something sound like a guitar but it is also has to look pretty. Still that it is mostly process. So how does one get to the next level to stand out in that crowd? I guess this is done through marketing which I am not very good at. I am a guitar builder not an advertising guy.

I am still currently accepting commissions on a limited basis but I am not actively looking for more commission work. I have a very loyal customer base. Most of my backlog orders are from repeat customers. I have taken a lot of time off from the on-line guitar forums to focus more time on developing and refining tone and processes rather than business promotion. Still I have missed some friends that I have made due to the forums and have decided to drop back in on a limited basis primarily at the Acoustic Guitar Forum where I have been a sponsor since 2009
I still plan to attend guitar shows, a place where it is near impossible to stand-out unless you are doing something unusual. I could hire a super-model to stand at my booth and while that might get some people to my booth, it is my goal to stand-out in the crowd with tone, not sex appeal. This has (and will) required many hours of experimentation in the shop. There is no substitute for actually building instruments so hopefully it will be the 'buzz' that my guitars sound, play, feel and look great not about some gimmick that will bring people to the table. Yeah, I know it may be a naive Field of Dreams mentality thinking that if I build it, they will come.